Uponor now offering ProPEX® connections for water service
New fittings and valves offer a direct ProPEX® connection to residential and commercial multifamily water meters.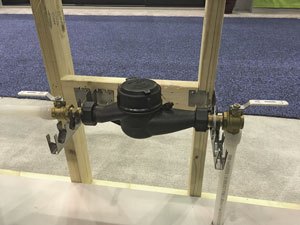 Apple Valley, MN, January 31, 2017 — Uponor North America (Uponor) is making it even easier to provide the reliability, high-performance and efficiency of an AquaPEX® plumbing system for homes and multifamily structures with the launch of its new ProPEX® connections for water service applications.
"With PEX installations in new-home construction surpassing copper and CPVC combined, we are continuing to provide even more solutions for designers and installers to incorporate the value of a complete Uponor AquaPEX plumbing system throughout a home or multifamily building," says Jayson Drake, director, Portfolio Management at Uponor.
Targeted for single-family homes and multifamily submetering, the new offering is available in engineered polymer (EP) straight or angle fittings, as well as lead-free (LF) brass straight or angle valves for connecting ¾" and 1" Uponor AquaPEX pipe to ⅝", ¾" and 1" water meters. Both fittings and valves feature NPSM swivel connections found on all water meters sized ⅝" to 1". The offering also includes mounting brackets to support the water meter system.


Download / View
News Release:
Media contact
Ingrid Mattsson
Director, Brand Management
T 800.321.4739, ext. 4249
M 612.845.6707
E ingrid.mattsson@uponor.com


Agency
John O'Reilly
GreenHouse Digital + PR
T 815.469.9100
E john@greenhousedigitalpr.com


About Uponor
Uponor, Inc. is an award-winning provider of plumbing, fire safety, radiant heating/cooling, hydronic piping and pre-insulated piping systems for residential and commercial applications. In 2016, Uponor partnered with Belkin International to form Phyn, a new intelligent water company to revolutionize the way consumers interact with water and help solve major challenges facing the global water supply. Additionally, the company added an $18 million manufacturing annex to its North American headquarters in Apple Valley, Minn. Recognized for best-in-class manufacturing, sustainability, energy efficiency, safety, business growth, economic development, workplace giving and a top workplace, Uponor employs more than 700 people in North America and 3,700 worldwide.
© 2017 Uponor, Inc.
Uponor, AquaPEX and ProPEX are trademarks or registered trademarks of Uponor Corporation and Uponor Inc.
###
IMAGE GALLERY
Uponor premiered the new ProPEX® lead-free (LF) brass water service straight and angle valves and mounting brackets at the 2017 International Builders' Show (IBS) in Orlando.

---

In addition to the valves, the offering also includes ProPEX engineered polymer (EP) straight and angle fittings.

---

*To download a hi-res image file, click on the link above and a zip archive automatically downloads to your computer. Due to how various browers handle downloads, you may have to expand the zip archive manually.