November 1, 2023
Industry Continuing to Discover Risks, Failures with Generic F1960 EP Fittings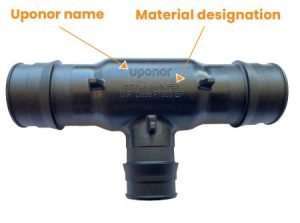 APPLE VALLEY, MINN., NOV 01, 2023 — Beginning in early 2020, supply-chain disruptions and unprecedented construction-materials demand resulted in an influx of F1960 engineered polymer (EP) fittings from various manufacturers and suppliers located around the globe. Unfortunately, some of these "F1960" fittings are not actually manufactured or tested to the same standards as the Uponor ProPEX® F1960 fittings, and contractors are learning a hard lesson about the differences when they experience a failure in their piping system.

In truth, not all fittings conforming to the ASTM F1960 standard are the same. Manufacturers and suppliers that claim their fittings are compliant to ASTM F1960 feel that, in their opinion, they meet the standard. However, there is no third-party agency to confirm that compliance. Uponor ProPEX fittings are a highly engineered product certified by a third-party agency — NSF — to ensure the raw materials, manufacturing process, and resulting product accurately meet the ASTM F1960 standard. In fact, the companies that mold ProPEX EP fittings are partners that are integrated into the codes, helping ensure the highest-quality product. ProPEX fittings also undergo internal quality testing that extends beyond the ASTM F1960 standard requirements to provide customers with the strongest value available on the market.
"It's important that installers are aware they need to ask for the Uponor brand name from distribution and make sure they are getting what they are paying for in ProPEX fittings," says Ann Studnicka, director, Channel Marketing at Uponor. "The differences are far beyond just the brand name. Uponor testing on generic F1960 fittings has exposed various manufacturing design and quality inconsistencies, and some fittings can't even pass the ASTM F1960 standard requirements. This is putting projects at considerable risk for failures and potentially voids the associated system warranties."
Over the past two years, Uponor has seen a significant increase in claims for failed connections that turned out to be other suppliers' F1960 fittings. This trend confirms the theory that many contractors simply are not aware of the visual differences between ProPEX and generic F1960 fittings.
"Contractors and distributors need to be aware of the visual differences between ProPEX and low-quality F1960 fittings," says Studnicka. "How can you tell? The easiest way is to look for the Uponor logo on the fitting."
Other markers of ProPEX fittings include thicker tube stops and thicker sealing barbs. The thin tube stops on the generic, low-quality fittings are especially problematic as the expanded PEX pipe can extend past the stops and cause leaks.
With more than 150 variations of couplings, tees, elbows, plugs, and multiports in sizes up to 3″, Uponor provides the most comprehensive offering of F1960 EP fittings in the market. The ProPEX connection system is also covered by an industry-leading, 25-year limited transferable warranty when used with Uponor PEX-a pipe and ProPEX rings. And, it is important to note that mixing different suppliers' fittings, rings, and pipe will lower the term or even void the warranty in some cases.
For further details about the differences with ProPEX connection systems, visit uponor.com/askforuponor. For information about all other Uponor products, systems, services, and solutions, visit uponor.com.
###
Download/View
News Release

 MS-Word (.docx)
Download individual images as lo-res (web ready; .jpg; RGB) or hi-res (print ready; .tif; CMYK)
Media Contact
Patti WingerDirector, Corporate Communications & Branding
T  651.341.8991
Agency
John O'Reilly or Payton Meyers
GreenHouse Digital + PR
T 815.469.9100
E  [email protected]
E  [email protected]


Uponor in brief
Uponor is a leading global provider of solutions that efficiently and effectively move water through cities, buildings, and homes. We help customers in residential and commercial construction, municipalities, and utilities, be more productive – and continuously find new ways to conserve, manage and provide water responsibly, unlocking its potential to provide comfort, health, and efficiency. Our safe drinking water, energy-efficient radiant heating and cooling systems, and reliable infrastructure solutions are sold in more than 80 countries. Uponor employs about 3,900 professionals in 26 countries in Europe and North America.
In 2022, the company's net sales totalled approximately €1.4 billion. Uponor Corporation is based in Finland and listed on Nasdaq Helsinki.
© 2023 Uponor Inc.
Uponor is a trademark of Uponor Corporation and Uponor Inc.


Image Gallery
---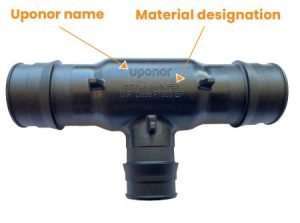 ProPEX Fitting with Name and Material Designation.
---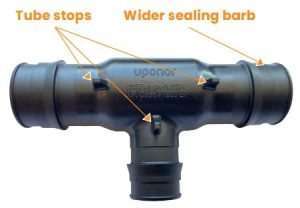 ProPEX Fittings with Tube Stops and Wider Sealing Barb
---
Generic F1960 Fittings
---