May 16, 2023
Uponor Earns Two More Minnesota Governor's Safety Awards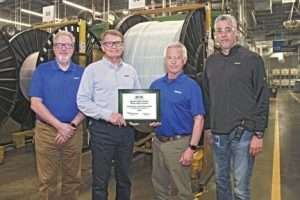 APPLE VALLEY, MINN., MAY 16, 2022 — Uponor North America (Uponor) has been honored again with two Governor's Safety Awards by the Minnesota Safety Council. In recognition of its exceptional occupational safety and health initiatives throughout 2022, the company's Apple Valley campus won its fourth Governor's Safety Award since 2015 and the Uponor Lakeville Distribution Center won its third award.

The annual Governor's Safety Awards, which date back to 1934, measure safety performance against national averages in a company's respective industry. Nominees complete a Safety Program Evaluation Scorecard, which was developed by a team of experienced safety professionals from organizations that are members of the Minnesota Safety Council. The program recognizes three levels of winners: Meritorious Achievement, Outstanding Achievement, and Award of Honor.
The Uponor Lakeville Distribution Center received an Outstanding Achievement Award for the third consecutive year, while the company's Apple Valley campus earned a second consecutive Meritorious Achievement award. In total, Uponor has now won seven Governor's Safety Awards since 2014.
"This recognition by the Minnesota Safety Council is a perfect reflection of our team's commitment to the safety, health, and wellbeing of our colleagues across the organization," said Andres Caballero, president, Uponor North America. "As a seven-time recipient of this award, our employees make safety their highest priority, never compromising the health of themselves or their colleagues. It is because of this commitment that Uponor continues to be a shining example of what great safety standards look like in the manufacturing space."
The Minnesota Safety Council was founded in 1928 and is dedicated to improving the quality of life in Minnesota by preventing unintentional injuries on the road, at work, at home, and in the community. To see a list of all award recipients, visit MinnesotaSafetyCouncil.org.
###
Download/View
News Release

 MS-Word (.docx)
Download individual images as lo-res (web ready; .jpg; RGB) or hi-res (print ready; .tif; CMYK)
Media contact
Dave Sniadak
Public Relations Manager
T  612.297.1832
E  [email protected]

Agency contacts
John O'Reilly
Payton Meyers
T 708.428.6385
E [email protected]
E [email protected]

About Uponor North America

Apple Valley, Minn.-based Uponor North America strives to be the partner plumbing and HVAC professionals rely on for smart water and energy solutions. The company is helping to move the construction industry forward through innovation, education and advocacy focusing on the defining issues of our time: water, energy, and labor. An award-winning manufacturer of PEX piping and marketer/distributor of Uponor PP-RCT in North America, the company offers plumbing, fire safety, radiant heating/cooling, hydronic piping, and pre-insulated piping system solutions for new construction, retrofits, and remodels in the residential and commercial markets. Recognized for best-in-class manufacturing, sustainability, economic development, and as a top workplace, the Uponor group of companies employs about 4,400 professionals in 26 countries in Europe and North America. In 2022, Uponor's global net sales totaled approximately €1.4 billion ($1.5 billion as of 12/31/22 exchange rate). Uponor Corporation is based in Finland and listed on Nasdaq Helsinki.
© 2023 Uponor Inc.
Uponor is a trademark of Uponor Corporation and Uponor Inc.
---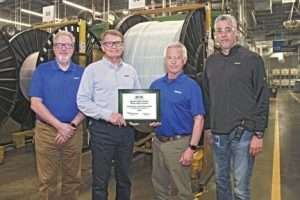 Left to right: Ryan Fleser, director, Quality and EHS; Jon Sillerud, VP, Integrated Supply Chain; John Sundeen, director, Manufacturing, and Paul Serafini, manager, Environmental, Health, and Safety (EHS)
Download Lo-Res Image
Download Hi-Res Image

Image Size:  6″ wide x 4″ high
(Lo-Res: 432 × 162882; 1800 x 1200 pixels)
---
Left to right: Tom Ryan, supervisor, Warehouse; Jason Vanasek, area lead, Distribution; Nate McIntosh, director, Logistics and Warehousing; Lucas Binger, area lead, Distribution; Jon Sillerud, VP, Integrated Supply Chain; Ryan Fleser, director, Quality and EHS; and Paul Serafini, manager, Environmental, Health, and Safety (EHS)
Download Lo-Res Image
Download Hi-Res Image

Image Size:  4″ wide x 6″ high
(Lo-Res: 288 × 432; 1200 x 1800 pixels)
---
Apple Valley campus won its fourth Governor's Safety Award since 2015 and the Uponor Lakeville Distribution Center won its third award
Download Lo-Res Image
Download Hi-Res Image

Image Size:  6″ wide x 3″ high
(Lo-Res: 432 × 216; 1800 x 900 pixels)
---