August 10, 2023
Florida Mechanical Contractor Cuts Installation Costs 70% with Prefabricated Hydronic Piping System
Tampa-based Colwill Engineering smoothly combines Uponor's new pipe prefabrication services with timely job-site deliveries from local distributor Winsupply to sharply reduce installation time and crew size on prestigious Society Orlando high-rise apartment construction project.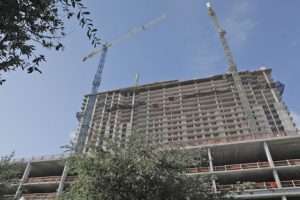 ORLANDO, FL — Prefabrication has become the name of the game in mechanical contracting. Nothing particularly new there — unless we're talking who, besides the installing contractor, might actually be doing the prefab work.

Download/View
Case Study

MS-Word (.docx)

Image Gallery
Download individual images as lo-res (web ready; .jpg; RGB) or hi-res (print ready; .tif; CMYK)

Forward-thinking plumbing and mechanical contractors have long used prefabrication of piping systems to meet the installation quality and scheduling demands of large commercial construction projects. But in recent years, competitive pressures have increased those demands sharply, as property developers and their general contractors push their subcontractors to bring projects to a successful conclusion more quickly and with smaller budgets.
Ergo, prefabrication has become more important than ever as a way of getting "heads in beds" more quickly and profitably for building owners and their GCs, while also allowing mechanical firms to actually turn a profit on these jobs.
A prime, recent example of this rising trend is Society Orlando, a two-tower, 1.5 million-square-foot, high-rise project, now under construction in downtown Orlando's Central Business District. Created by national real estate developer PMG to meet the demand for attainably priced rental communities, the project is being built in two phases:
a 330-foot-tall, 26-story tower with 462 units, slated for completion in 2023; and
a second, yet-to-be-bid, 16-story tower that will eventually house 245 residential units.
In addition to the combined total of 707 rental apartments, the planned, finished structure should have 36,000 square feet of office and retail space.
Projected to be the second tallest building in downtown Orlando, the job early on caught the attention of the Director of Business Development for Tampa-based Colwill Engineering, Inc.: 35-year industry veteran Jerry Rollen, who recognized this as an excellent opportunity to extend Colwill's footprint into the Central Florida market.
Rollen joined the firm in 2021 from Del-Air Heating, Air Conditioning, Plumbing and Electrical. The latter was acquired by Colwill, which is best known for delivering complete design-build services that are cost-efficient and fully executable within budget.
Colwill was charged with creating the first tower's HVAC mechanicals, a hybrid air-and-water system involving the movement of condenser-chilled water from: (1) a rooftop cooling tower; (2) through large-diameter PP-RCT piping, also located on the roof; (3) through vertical pipe runs ("risers") made of crosslinked polyethylene, or PEX, extending nearly the entire length of the building; and finally (4) branching off to fan coil units and their ductwork inside the 462 apartments.
A second, return line made of the same materials follows a similar route in reverse, carrying warmed water from the apartments back to the cooling tower to be chilled again.
The supply-and-return risers are made from a specially formulated type of PEX-a pipe called Wirsbo hePEX™, which features a corrosion-resistant oxygen barrier designed for closed-loop hydronic pipe distribution applications like Society Orlando.
The structure's domestic water system, installed simultaneously with the hydronic system by another contractor — Progressive Plumbing (Clermont, FL) — is made of conventional PEX-a pipe called Uponor AquaPEX®.
All of this piping was supplied by Uponor North America, headquartered in Apple Valley, MN.

Prefabbed at the Factory
Given the magnitude of the project and its heavy scheduling demands, Colwill's Rollen was understandably under pressure to demonstrate to general contractor John Moriarty & Associates that his company had the expertise and the means — particularly the human resources — to complete the job on time and on budget. Early on, Rollen concluded that prefabrication had to play a key role in Colwill's part of the project.
Prefab work, of course, is ordinarily done by the installer in the quality-controlled environs of a shop or in some sort of temporary quarters on the job site. But Rollen lacked the personnel and the facilities for the former, and the confined spaces of Society Orlando would not accommodate the latter. Thus, Rollen chose to work with a long-time professional colleague, Uponor Commercial Account Manager for the South Region Jason Sewell, to help with not only Colwill's PEX and PP-RCT material needs, but also with the pipe-prefabrication work.
Sewell, who spent more than two decades in the Central Florida mechanical contracting field before joining Uponor in 2016, worked with Colwill and Rollen to specify PP-RCT for the rooftop piping. Next, Sewell helped Rollen connect with another local outfit, HDPE Inc. (Mulberry, FL), to provide prefabrication of 800 linear feet of the PP-RCT, ranging from 3″ to 12″ in diameter. PP-RCT is still a relatively new offering for Uponor, so the manufacturer had advised to keep that part of the prefab work in Florida.
However, in September 2021, Uponor did begin work on the system design and prefabrication of the Wirsbo hePEX piping for the risers. Built at the company's Lakeville, MN, distribution facility, the first production of spools (i.e., pipe and fitting assemblies) shipped in December of that year.
Once prefabricated, the spools were carefully crated in special protective containers of the manufacturer's own design and shipped 1,500 miles to the warehouse facilities of local Uponor distributor Winsupply. Conveniently situated only 15 minutes from Society Orlando, the wholesaler would then time its material deliveries according to the changing needs of the job site. There, it would be hoisted — not by the site's temporary, buck-hoist elevator that is routinely in heavy demand by all the trades — but by crane to whatever floor Colwill's crews were working on.
Instead of the scores and scores of connections Colwill's installation team would make if building the risers from scratch, prefabrication reduced the work to a single connection per spool. The result, according to Rollen: a whopping 40% reduction in field labor and an overall 70% savings in labor costs for Colwill, all while keeping pace with the construction schedule.
In fact, Colwill was more than keeping pace, as Sewell recalls of the work done throughout 2022. Early in the project, "Colwill had installed the prefabricated Wirsbo hePEX risers all the way past the 20th floor, while the crews erecting the building were just beginning to frame the fourth floor. Colwill was that far ahead of schedule and with only three or four crew members installing the risers."
Rollen confirms Sewell's recollection of his team's installation speed, noting that building the risers on the job site would have likely required double the crew size. "We were chasing the concrete from the general contractor, waiting for them to take it down, and installing our prefabricated pipe immediately after them," he explains. "This is normally unheard of on-site."

Prefabrication Profile
By the numbers, the hydronic distribution piping system inside Society Orlando's Tower No. 1 is eye-opening:
958 prefabricated Wirsbo hePEX riser spools, including 420 using ¾" through 2″ pipe and another 538 spools using 2½" and 3″ pipe.
3,000 separate pipe connections, made with Uponor ProPEX® fittings, which are certified to ASTM F1960 ("Standard Specification for Cold Expansion Fittings with PEX Reinforcing Rings for Use with Cross-linked Polyethylene").
16 crates, featuring the aforementioned, custom-built design to secure the spools and prevent their being damaged in transit to Florida. "That was one of the learning curves we had to climb," explains Uponor Commercial Market Segment Manager Daniel Worm, CPD, who did some of the design work and supervised the prefabrication. "We used a kind of 'ladder' design inside the crates that arranges the spools as if they were in an oven and keeps them from banging around."
More than 200 hours of prefabrication time at Uponor's Lakeville Distribution Center.
That last number may seem like a sizable investment until it is compared with the time Colwill would've had to spend building the risers on the job site. Each of the 26 floors in the first Society Orlando tower had 24 risers with 44 connections, or a total of 27,456 connections, according to Rollen.
"Two of our guys could do an entire floor of smaller diameter pipe [up to about 1½ inches] in a half to a full day," he says. "A more traditional approach without prefabrication would take approximately 10 guys a full week."
Beyond the expected productivity benefits of prefabrication, the Wirsbo hePEX pipe offered the advantage of installation flexibility on the job site. In a high-rise structure like Society Orlando, the concrete deck includes cast-in-place sleeves to create the holes through which the risers are guided. Of course, it is all but impossible to vertically align those holes, one floor after another, to create a perfectly straight pipe run.
A rigid type of piping, either metal or plastic, might therefore require the time-consuming creation of an additional pipe connection to overcome this problem of "drift." But this is not a concern with flexible PEX-a pipe.
"The flexibility of Uponor PEX is fantastic," says Rollen. "It allows you to have an easy drift from one floor to the next. It's very forgiving."
Working with the prefabricated, precut lengths, Colwill installers needed to trim only six to eight inches of the pipe to connect the riser from one floor to its continuation on the next. The results? Minimal risk for leaks, because of fewer pipe connections, and minimal product waste on site.

Key Moves and Key Learnings
Two other strategies have played key roles in Colwill Engineering's successful installation on the Society Orlando project.
The first has to do with a steady flow of materials, from factory to Orlando. The past several years have been the occasion for numerous supply-chain problems in the construction industry, often causing serious delays in construction schedules. Anticipating trouble well before the first shovel hit the ground, Rollen worked with the developer and the general contractor to implement an integrated design process.
With the help of Uponor's Sewell and Worm, he generated a bill of materials based on contract documents and placed an order for over 12,000 feet of Wirsbo hePEX in early 2021, well in advance of the project's startup.
Even without completed shop drawings at that early stage, Rollen could easily manipulate his purchasing commitment as needed, ordering material as planning and production progressed. This foresight alone has been one of the main drivers in the high productivity of the Colwill install crews to date.
The second strategy relates to coordinating product deliveries locally to the job site. Uponor timed the delivery of each crate — along with a box of ProPEX rings for making field connections — from Lakeville to Orlando in accordance with Colwill's needs. But, as with prefabrication, the customary practice of shipping direct from the factory to the job site was not practical at Society Orlando. There simply wasn't room on the job site.
Instead, the material went to Winsupply Orlando. Usually departing Lakeville at the beginning of a week, the crate would arrive, 1,500 miles later, at Winsupply by Friday, with manufacturer and distributor maintaining close communications on the shipment's progress.
At that point, Winsupply arranged for a job-site delivery on whatever day and time they were able to secure crane time, minimizing needless and highly unproductive waits and delays.
"Winsupply could hit that crane-availability window much better than a truck driver coming from Minnesota," says Worm. "That was another key learning on this project. It makes a ton of sense to leverage the time-and-place utility of our distributor partners."
The use of the cranes offered additional time and labor savings as well. While the buck hoist was available to transport both material and mechanics to the various floors throughout the building, actual transport time could range upwards of 30 minutes per use, much of it just standing around.
"The buck hoist is fine for lifting the crews, their gang boxes and lunches — everything they need for a full day wherever they are working," explains Sewell. "But arranging for the prefabricated risers to be hoisted separately via crane, so they are ready and waiting to be installed, also saved labor, time, and costs."
"Contractors seldom factor all that wait-around time into a job quote, but it adds up to a lot of wasted time," admits Rollen. "Shipping product to the floors via crane at just the right times means the crews never need to come down to fetch any materials. That saves a lot of time and money."

Tower No. 2: Encore, Please
While Colwill's use of PP-RCT at Society Orlando is a satisfying first for the company, Jerry Rollen has been a strong proponent of PEX plumbing in his commercial work for more than a decade. The success he has enjoyed at Society Orlando has only bolstered that advocacy.
Not surprisingly, Rollen plans to bid on the hydronic distribution system as well as the plumbing for the second Society Orlando tower, which should commence in 2023. He also intends, again not surprisingly, to embrace the same cost-efficient, labor-saving methods of prefabrication for both the Wirsbo hePEX and the Uponor PP-RCT piping systems.
"It's stupid simple," he says. "You have to adapt to the products out there and apply them differently than what we conventionally have done. I plan on implementing prefabricated Wirsbo hePEX and Uponor PP-RCT everywhere I can."
###
Agency Contact
John O'Reilly or Payton Meyers
GreenHouse Digital + PR
T 708.428.6385
E  [email protected]
E [email protected]

About Uponor
Apple Valley, Minn.-based Uponor North America strives to be the partner plumbing and HVAC professionals rely on for smart water and energy solutions. The company is helping to move the construction industry forward through innovation, education and advocacy focusing on the defining issues of our time: water, energy, and labor. An award-winning manufacturer of PEX piping and marketer/distributor of Uponor PP-RCT in North America, the company offers plumbing, fire safety, radiant heating/cooling, hydronic piping, and pre-insulated piping system solutions for new construction, retrofits, and remodels in the residential and commercial markets. Recognized for best-in-class manufacturing, sustainability, economic development, and as a top workplace, the Uponor group of companies employs about 4,400 professionals in 26 countries in Europe and North America. In 2022, Uponor's global net sales totaled approximately €1.4 billion ($1.5 billion as of 12/31/22 exchange rate). Uponor Corporation is based in Finland and listed on Nasdaq Helsinki.
© 2023 Uponor, Inc.
Uponor is a trademark of Uponor Corporation and Uponor, Inc.
Image Gallery
---