February 16, 2023
Uponor North America Makes Donations Honoring 'Unsung Heroes'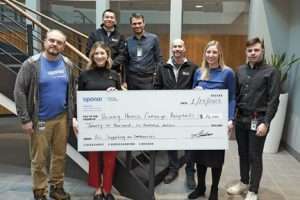 APPLE VALLEY, MINN., FEBRUARY 16, 2022 — Uponor North America (Uponor), in partnership with its corporate offices in Finland, recently announced a global donation of €25,000 euros – approximately $26,600 USD – that will be split between five charities in countries Uponor serves as part of the company's 'Unsung Heroes' campaign.

This internal campaign recognized employees who volunteer and serve as ambassadors for organizations that serve their local communities. While more than 30 organizations nominated by Uponor employees, the following Minnesota-based non-profit groups will be receiving a $5,320 USD (€5,000) donation from Uponor:
The American Red Cross on behalf of Logan Chapman, maintenance technician, Supply Chain; Cristin Erdman, employee experience director, HR; Melinda Sprute, associate manager, Product Data Management; Diane Jordan, trade compliance manager, Legal Services; and Tom Ryan, warehouse supervisor, Supply Chain;
Stand with Ukraine MN, benefitting the Protez Foundation, on behalf of Alex Khrystych, supervisor, Operations Training;
Minnesota Assistance Council for Veterans (MACV) for its efforts in supporting military veterans across the state of Minnesota;
Emmaus Europe and Down Madrid Association will also be receiving donations on behalf of Uponor Corporation.
"These organizations are supported by countless Uponorians who serve many hours each year as part of our Volunteer Time Off (VTO) program," noted Andres Caballero, president, Uponor North America. "We are honored to be able to make these financial contributions to each of these organizations, who tirelessly support the communities Uponor is connected to. While our own 'Unsung Heroes' go the extra mile with these groups personally, we are eager to see the impact these financial gifts will make in 2023 and beyond."
The Uponor Unsung Heroes program launched in 2022 and aims to recognize the selfless, community-focused efforts of Uponor employees around the world. Each year, Uponor employees are given 24 hours of paid VTO to use as they choose. In 2022, Uponor employees spent more than 1,100 hours of VTO to serve more than 75 organizations across North America.
###
Download/View
News Release

 MS-Word (.docx)
Download individual images as lo-res (web ready; .jpg; RGB) or hi-res (print ready; .tif; CMYK)
Media contact
Dave Sniadak
Public Relations Manager
T  612.297.1832
E  [email protected]

Agency contacts
John O'Reilly
Payton Meyers
T 708.428.6385
E [email protected]
E [email protected]

About Uponor North America
Apple Valley, Minn.-based Uponor North America strives to be the partner plumbing and HVAC professionals rely on for smart water and energy solutions. The company is helping to move the construction industry forward through innovation, education and advocacy focusing on the defining issues of our time: water, energy, and labor. An award-winning manufacturer of PEX piping and marketer/distributor of Uponor PP-RCT in North America, the company offers plumbing, fire safety, radiant heating/cooling, hydronic piping, and pre-insulated piping system solutions for new construction, retrofits, and remodels in the residential and commercial markets. Recognized for best-in-class manufacturing, sustainability, economic development, and as a top workplace, the Uponor group of companies employs about 4,400 professionals in 26 countries in Europe and North America. In 2021, Uponor's global net sales totaled approximately €1.3 billion ($1.5 billion as of 12/31/21 exchange rate). Uponor Corporation is based in Finland and listed on Nasdaq Helsinki.
© 2023 Uponor Inc.
Uponor is a trademark of Uponor Corporation and Uponor Inc.
---